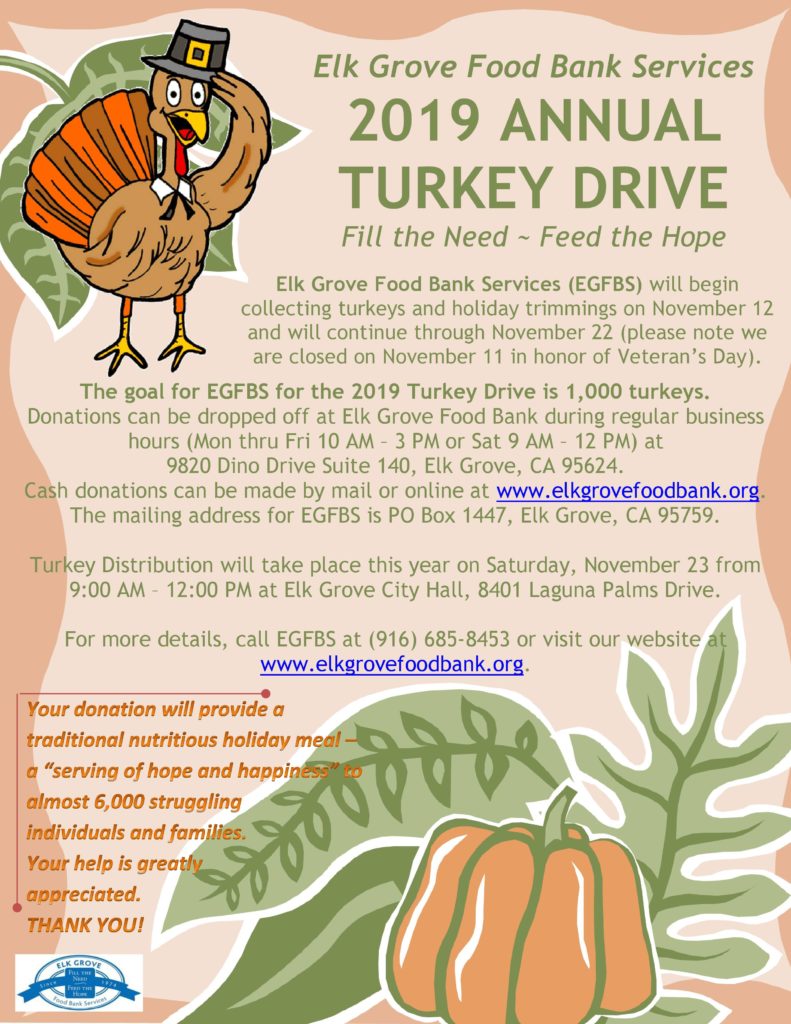 Elk Grove Food Bank Services (EGFBS) will begin collecting turkeys and holiday trimmings on November 12 and will continue through November 22 (please note we are closed on November 11 in honor of Veteran's Day).
The goal for EGFBS for the 2019 Turkey Drive is 1,000 turkeys.
Donations can be dropped off at Elk Grove Food Bank during regular business hours (Mon thru Fri 10 AM – 3 PM or Sat 9 AM – 12 PM) at 9820 Dino Drive Suite 140, Elk Grove, CA 95624.
Cash donations can be made by mail or online at www.elkgrovefoodbank.org. The mailing address for EGFBS is PO Box 1447, Elk Grove, CA 95759.
Turkey Distribution will take place this year on Saturday, November 23 from
9:00 AM – 12:00 PM at Elk Grove City Hall, 8401 Laguna Palms Drive.

For more details, call EGFBS at (916) 685-8453 or visit our website at www.elkgrovefoodbank.org.

Your donation will provide a traditional nutritious holiday meal – a "serving of hope and happiness" to almost 6,000 struggling individuals and families. Your help is greatly appreciated. THANK YOU!