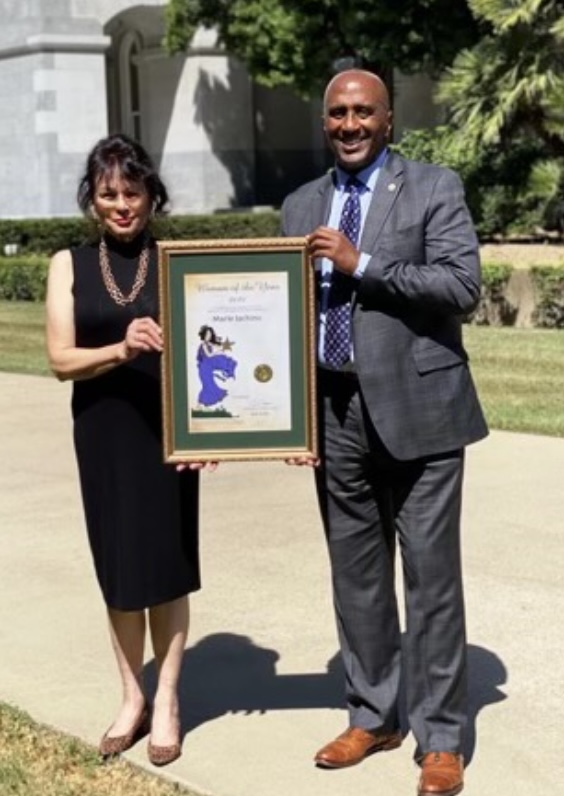 We are so proud and excited to share that our very own Marie Jachino, Executive Director of the Elk Grove Food Bank, has been honored by Assemblymember Jim Cooper as the 2021 Woman of the Year in the 9th Assembly District. The award, presented annually as part of Women's History Month, recognizes women who are making an extraordinary difference in the communities. Those who know Marie know how very well-deserved this prestigious honor is.
Under Marie's leadership, which began in 2004, the Food Bank has expanded its reach from two programs to fourteen programs – being ever vigilant to ensure that the most vulnerable of our neighbors receive the services that they need. Services offered at the Food Bank now include those for seniors, children, homeless, disabled, veterans, and those unemployed residents in Elk Grove and south Sacramento County. Thanks to her perseverance, a much-needed new facility is being built, allowing the Food Bank to dramatically increase its capacity and impact. In 2020, the Food Bank served the equivalent of more than 1,111,000 meals.
Marie joins an amazing group of remarkable women throughout the State of California who traditionally are recognized on the floors of the Senate and Assembly. This year's in-person event, like all others, had to be held virtually, but we are grateful to Assemblymember Cooper and his staff who set aside time to meet with Marie personally and present her with the beautiful plaque marking this significant and notable distinction.
Congratulations Marie!